Wraparound Care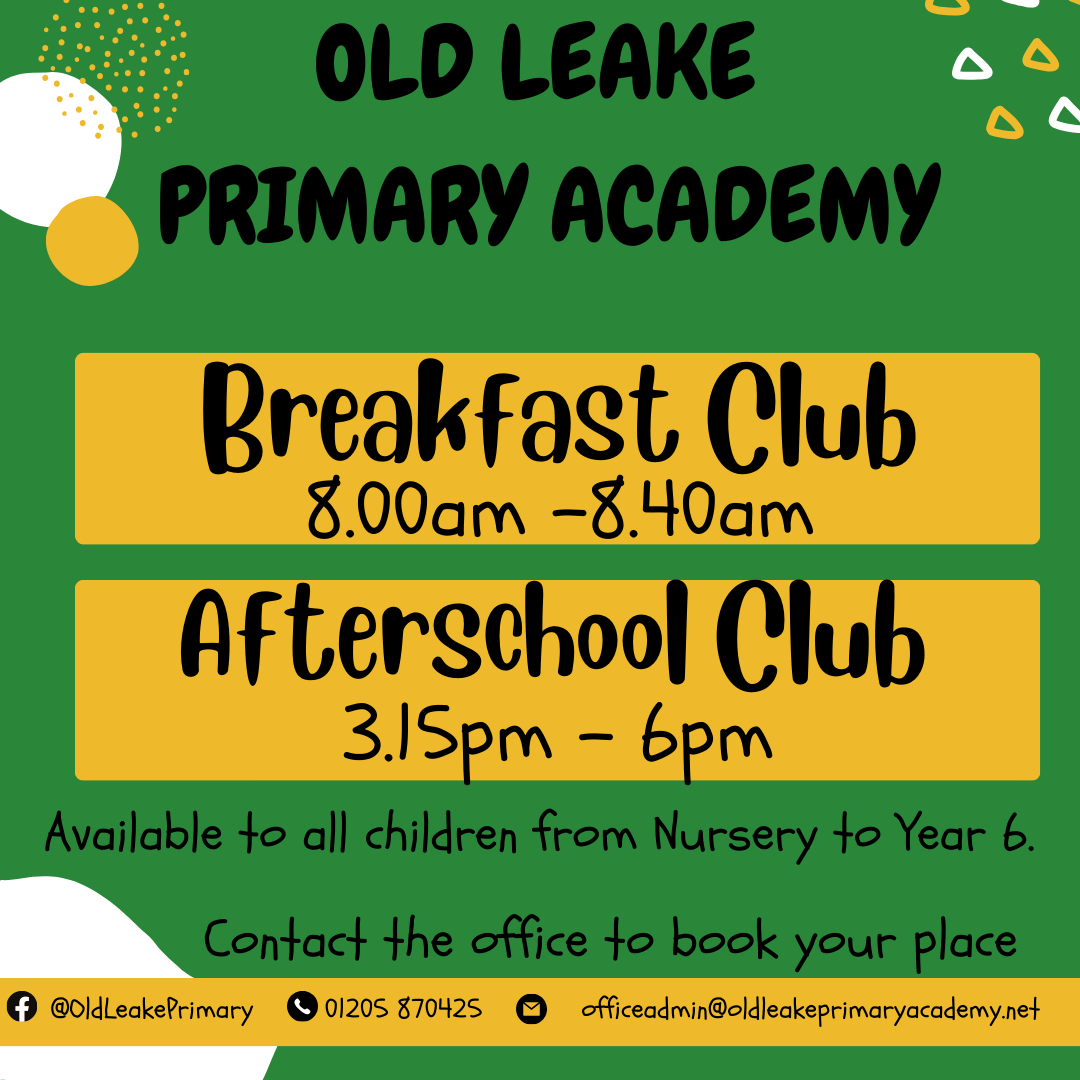 Click on the links below to book your Breakfast Club place.
Monday 20th November - Friday 1st December
Monday 4th December - Wednesday 20th December
Breakfast Club
At Old Leake Primary Academy, we offer a daily breakfast club from 8.00am - 840am, run by qualified staff who organise and run a range of fun activities and play opportunities in a safe and secure environment where children can meet their friends and make new ones.
The children have a choice of cereals, toast, drinks, fruit, crumpets and of course pancake Friday!
The current cost is £1.50. There is an option to book in advance or you can use when and if it is required. Payment has to be prompt. Children must arrive by 8.20am to be able to take advantage of breakfast.
What are the benefits of a Breakfast Club?
By offering a balanced meal, a safe and stimulating environment and social and emotional support to young people breakfast clubs have repeatedly reported the following benefits:
improved behaviour, attendance and punctuality
increased concentration, therefore potentially achievement
reduced bullying through increased cross-age/peer-group communication
improved social skills and confidence to interact with children and adults alike
increased understanding of the importance of a healthy eating regime and energy balance
renewed interest in curriculum subjects
Afterschool Club
We offer after-school provision to children from Nursery to Year 6 which runs from 3.15pm - 6pm.
Children are offered a variety of activities to take part in, such as colouring, games, baking, playdough and much more!
The cost of after-school club is:
3.15pm - 4.15pm £5
3.15pm - 6pm £8
Please take note of the following points regarding our After-School Care:
Please ensure that payment is made when booking, any bookings received without payment may mean bookings cannot be guaranteed.

Please note that in order to pay the reduced rate a 'half session' must be specified on the booking form.

If care is required after an extra-curricular club, regardless of whether until 4:15pm or 6:00pm, the full fee for that session is chargeable.

A full refund will be given if your child is absent from school, or sent home from the academy early due to illness.

If you book a session and collect your child earlier than booked unfortunately we will not be able to give you a refund (unless you have contacted us before 1pm to advise of the change in collection time).

Please contact the academy office if you are going to be late collecting your child. The office is open 8:15am - 4:30pm. Please leave a message on the answering machine if nobody picks up as we monitor it regularly for messages.

Children that are collected late from a half session will be charged for the cost of a full session - £8 per child.

If parents are repeatedly late then we reserve the right to refuse a place for that child in the future.

If booking until 6:00pm, we would be grateful if you could aim to collect your child for 5:55pm, as by the time they have collected their belongings and you have signed them out it is often 6:00pm. If you collect your child from a full session after 6:05pm you will be charged a fee of £2, which will increase by £2 every 15 minutes.

Please try to avoid booking children into the After-School Club on the day of the required session. It is preferable for us to receive bookings at least a week in advance to avoid exceeding statutory ratios. However, we would always try to accommodate children in the case of an emergency.
It is Old Leake Primary Academy's right to refuse a place at extended provision to any child that is repeatedly collected late or if payment is not received for a session that they have attended.
If you have any queries concerning the fees charged, or experience difficulty in making payment for the use of the provision, please contact Headteacher Vicki Hardwick, or Sarah Skelton, the Senior Administrator, to discuss the matter in confidence.