The Whole Curriculum
We aim to provide a broad and balanced curriculum matched to the children's needs. We pride ourselves on a very wide variety of sports opportunities being offered to the children. We are a member of the Boston and District Sports Partnership.
FOUNDATION STAGE
When children first come to the academy the foundation laid down by the family is the starting point for your child. We place emphasis on the teaching of good listening and social skills through activity based learning experiences. This forms the foundation for independent learning skills.
KEY STAGE 1
The skills and attitudes learnt during the Foundation stage will be built upon in Key Stage 1 giving your child access to the whole curriculum as they practise and perfect the skills they have acquired and learn new skills. Their progress will be tested at the end of Year 2 (Key Stage 1 SATs) and compared to the progress of other pupils of the same age throughout the country.
KEY STAGE 2
At this stage, more developed learning skills will allow the skills and knowledge of discussion, experimenting, listening, thinking, and problem solving to be taught. Our older pupils are encouraged to take a more responsible leading role in the academy, as prefects and peer mediators, helping younger pupils. At the end of Key Stage 2, our Year 6s take the Key Stage 2 SATs and we give every support to pupils where parents wish them to take common entrance tests for selective schools (11+).
HOMEWORK
Homework is a very important part of our "Success for All" philosophy. It is a chance to strengthen the home/academy partnership. Reading books are allowed home every night. We like our pupils to share their books with parents, grandparents, brothers and sisters, not only reading but also discussing stories, pictures and facts that have been gleaned from all kinds of books.
We also give children research tasks, designed to extend this learning and become self-motivated and active life-long learners. Please support and encourage your child in order to maximise the benefits.
Our expectation is that a child will spend more time on homework as they progress through the academy. Outstanding effort is rewarded with team points and celebrated in our achievement assemblies.
At all times we rely on your encouragement, as parents, to help your child with homework. However, it MUST NOT become a 'battle', as this de-motivates and destroys the love of learning we are aiming for. Each year group has its own arrangements for WEEKLY homework.
PUPIL PREMIUM
The Pupil Premium is funding provided to schools which is additional to main funding.
It is allocated according to the number of pupils on-roll who are eligible for free school meals (FSM), a smaller amount allocated according to the number of children of service families, and an allocation for each pupil who has been 'Looked After' (in care) for 6 months or more. In 2012, funding was extended to include pupils who have been eligible for free school meals within the past 6 years.
It is for schools to decide how the Pupil Premium is spent, since they are best placed to assess what additional provision should be made for the individual pupils within their responsibility. However, schools are to be held accountable for how they have used the additional funding to support pupils from low-income families. From September 2012, this information must be published on the academy website. The academy was allocated £95,640 for the pupil premium in the year 2017 to 18. You can find a list of what the Pupil Premium funding was spent on during 2017 to 2018.
Is your child entitled to Pupil Premium?
They are entitled if you receive:
Universal Credit, provided you have an annual net income of no more than £7,400 (£616.67 per month)
Income Support, Income Based Job Seeker's Allowance, or Income-related Employment and Support Allowance
Guarantee Element of State Pension Credit
Child Tax Credit (provided you're not also entitled to Working Tax Credit and have an annual gross income of no more than £16,190 as assessed by HMRC)
Employment and Support Allowance
Support under part VI of the Immigration and Asylum Act 1999
Working Tax Credit run-on - paid for four weeks after you stop qualifying for Working Tax Credit
There are many benefits of applying for Pupil Premium. You could be supported with the cost of:
School trips
Before and after school care
Clubs
Uniform
Intervention
Group activities
How to apply?
To find out if your child is eligible to receive Pupil Premium please apply on the online parent portal:
https://lcc.cloud.servlec-synergy.com/parentportal
If you need any help or support in applying for pupil premium please get in touch with the academy office.
EDUCATIONAL VISITS AND CHARGING POLICY
During the academic year children may visit places of interest, usually in support of curricular projects or environmental work. Speakers or live theatre in school may also be arranged. Under the requirements of the Educational Reform Act 1988, we can only raise the cost of visits or activities by voluntary contributions and we hope all parents will support them. Should insufficient support be received the visit may have to be cancelled.
COLLECTIVE WORSHIP*
A daily act of worship is held, led by the staff, or an invited guest.
*Parents have the right to withdraw their children from acts of religious worship and RE lessons. This should be discussed with the Headteacher. Suitable supervised activities will be provided after consultation with parents.
HANDWRITING STYLE
We use a handwriting scheme in the academy which improves the presentation of children's work. All children, from year 2 will be learning this script. The main difference is that all lowercase letters have entry and exit strokes. This helps in the formation of letters and also helps when it comes to joining. Please note that uppercase letters do not join and do not have entry strokes.
You can see below how all of the letters are formed, so that you can support your children at home.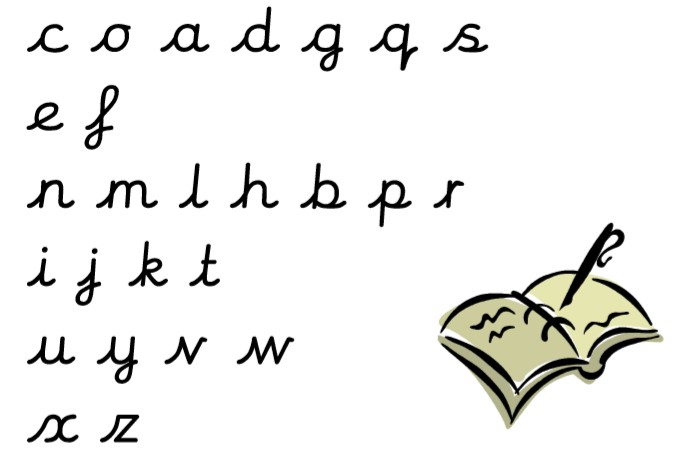 If you have any queries or questions, then please don't hesitate to contact the academy.
ASSESSMENT
It is our belief that assessment needs to be seen as a coherent whole and as a planned activity. We feel that it is important to approach this systematically, step by step, with each step informing future planning to move learning on. We assess children in all areas of the curriculum from Nursery through to Year 6. Children are tracked against the Foundation Stage Profile in Reception Class and against the National Curriculum levels from Year 1 to Year 6 for reading, writing and mathematics. During parents evenings and through reports, parents are informed of their child's achievements and targets for achievement.
POSITIVE BEHAVIOUR MANAGEMENT
Effective education of pupils at Old Leake Primary Academy is dependent on maintaining high standards of discipline through a positive approach to behaviour management. We strive to create a caring atmosphere where teaching and learning can take place in a safe and happy environment, supported by the whole academy community.
We teach the children the knowledge and skills that promote responsible behaviour and discipline.
We encourage good behaviour through praise and providing a range of rewards.
We make it clear to the children the sanctions and consequences to be implemented for serious undermining of the behaviour code.
We manage problems when they occur in a consistent, sympathetic manner in order to role model desirable behaviour.
SPECIFIC ADDITIONAL SUPPORT
Throughout a child's education and for various reasons, there may be times when he/she requires specific additional support to overcome a particular issue. Should this occur, we have a team of specialist support workers within the academy who have specific expertise and experience in Autism, Dyslexia and Behaviour. They provide a range of support packages tailored to the child's individual requirements, and can access professional advice and support from a wide range of services including: Autism outreach, Dyslexia outreach, Speech and language, Emotional and Behavioural Support Service, Educational psychologist and Child and Family Support Workers.
Should it be felt that your child would benefit from additional support you will be invited to discuss what we can offer and with your approval, your child will be placed on our additional support register (SEN- Special Educational Needs). The academy prides itself on early identification of children's needs and always does its best to ensure that the necessary provision is made available for any pupil who has special educational needs to achieve their full potential. At Old Leake Primary Academy all parents of children with additional needs are partners to support and play an active and valued role in their children's education.
Parents of all children on the Additional support list are invited to progress meetings. These meetings are essential for the parent and school partnership to ensure best practice, working together to monitor progress and set future targets for your children.
All the academy's policies reflect 'inclusion for all'. This encompasses any spectrum of learning differences and disabilities. Staff have regular training through the IDP (Inclusion Development Program) for Autism, speech and language, Dyslexia and Social and emotional behaviours to ensure inclusion within the mainstream classroom where ever possible.
Some examples of individual children's needs being met include:
Phased introduction to academy life
Personal behaviour plans
Visual timetables
Special seating arrangements
Healthcare plans
Adaptations to the classrooms
Reactive plans for visiting staff
Continued professional development
Old Leake Primary Academy's SEN Team
Mrs Angela Simpson is the academy's Lead Behaviour and Pupil Support Officer, she specialises in pupil behaviour and attendance.
GIFTED, TALENTED & MORE ABLE
As a staff, we believe in treating pupils as individuals and so catering for their individual needs. Children who display a potential to exhibit superior performance across a range of abilities, are identified through staff and parent nomination. Areas of identification include curricular, creative, artistic, physical, leadership qualities and the processing of ideas and information. Such children are identified as having a gift, a talent, or are more able. The term gifted refers to academic subjects, where children are working at a full level above the expected attainment. The term talented usually refers to the arts, sports and philosophical skills.
We meet the needs of GTMA children in three basic ways – acceleration, enrichment and extension:
Acceleration consists of enabling a pupil to access work which would typically be for older pupils. This can occur through moving the pupil up a year group or through simply giving them work which would be typically be given to older pupils.
Enrichment consists of broadening a pupil's education. Concepts and skills are explored in greater depth, with an emphasis on investigation and the encouragement of creative thinking,
Extension occurs when pupils are encouraged to develop more sophisticated thinking and reasoning skills. Extension activities provide pupils with an extra tier of challenge.