Funded Hours
At Seedlings Nursery, we offer funded places for 15 and 30 hours per week. We also offer self funded places to families who wish to pay for childcare from age 3 or to top up funded places.
All children are eligible for the 15 hours universal Early Years Funding from the term after their 3rd birthday. This is also the criteria for the children of working parents who have successfully applied for the additional 15 hours (making a total of 30 hours) childcare. Each funded child can claim up to five (or ten if 30 hours) 3 hour nursery sessions per week during term time.
Parents are welcome to utilise additional sessions but these will be chargeable.
For those children who are accessing their EYE funding, any additional hours requested will be charged at the below rates. Parents will not be required to purchase additional hours or pay additional charges to secure free places.
Early Years Entitlement (EYE) funded hours
| | |
| --- | --- |
| 8.45am to 11.45am (3 hours) | FREE |
| 12.15pm to 3.15pm (3 hours) | FREE |
| 8.35am to 2.45pm (6 hours) | FREE |
Additional Hours
| | |
| --- | --- |
| 8.45am - 11.45am (3 hours) | £15 |
| 12.15pm - 3.15pm (3 hours) | £15 |
| 2.45pm - 3.15pm (30 minutes) | £2.50 |
We have intakes in September, January and April. We may also be able to take mid year intakes if you have recently moved to the area or wish to pay for sessions as soon as your child turns 3.
When you register at our nursery, you will be asked to complete a funding form so we can claim the funding for your child. Your child will not be able to start their funded place until be have received this form. Please note, funding applications for 30 hours should be made the term before your child is due to start nursery.
Once sessions have been requested and confirmed, they will remain the same every week. You can request to cancel or make changes to your sessions by giving one months notice in writing.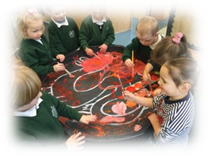 Childcare Choices | 30 Hours Free Childcare, Tax-Free Childcare and More | Help with Costs | GOV.UK